Publications
Published: 10 December 2015
Ocular Adverse Reactions: More Than Meets the Eye
Prescriber Update 36(4): 47-48
December 2015
Prescribers are reminded that ocular reactions can occur with all medicines, not only those medicines administered directly into the eye. Prescribers should be aware of possible ocular adverse events and monitor where appropriate.
The top 10 ocular reactions reported to the Centre for Adverse Reactions Monitoring (CARM) up until 30 September 2015 are shown in Figure 1. Conjunctivitis and abnormal vision were the most commonly reported reactions.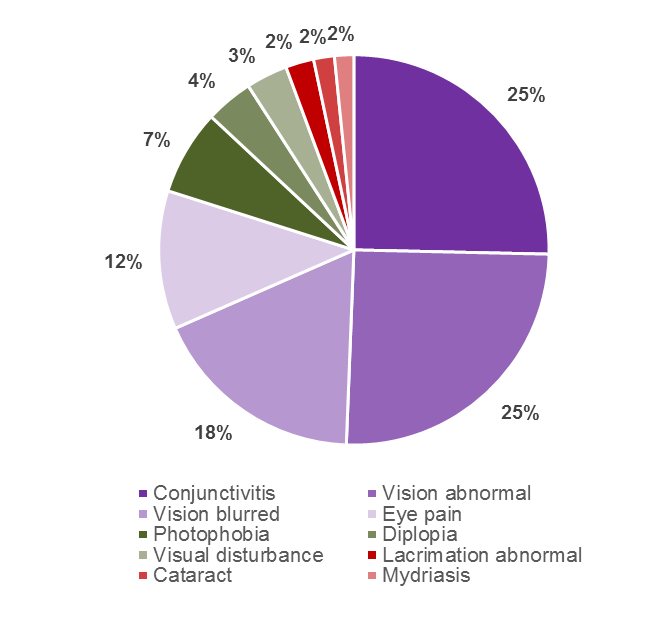 Figure 1: Top 10 ocular reactions reported to CARM (using the WHO Group 'Vision Disorders')
The top 10 medicines linked to cases reporting an ocular reaction in New Zealand in alphabetical order were: amiodarone, influenza vaccine (trivalent), iohexol, meningococcal B vaccine, metoprolol, MMR vaccine, nalidixic acid (no longer approved), simvastatin, thyroxine, and zoledronate. Interestingly, none of the top 10 medicines reported to CARM involved eye drops.
Consistent with the CARM reports, this finding has also been reported in the published literature. A 2015 review by four regulatory authorities suggested that from the safety alerts evaluated, most of the ocular adverse events were associated with non-ophthalmic drugs 1.
Another recent systematic review looked at ophthalmic adverse drug reactions to systemic drugs. This review concluded that medicines frequently involved with ocular adverse reactions include amiodarone, sildenafil, hydroxychloroquine and bisphosphonates2.
In the New Zealand data, ocular reactions were also found to be commonly reported in association with vaccinations. This is possibly related to other vaccination-related adverse effects such as fainting and dizziness.
Further information regarding adverse reactions can be found in the data sheets for the specific medicine. In addition, Prescriber Update articles relating to ocular reactions (bisphosphonates and amiodarone) can be accessed on the Medsafe website (www.medsafe.govt.nz/profs/PUArticles/BisphosphonatesSept2011.htm and www.medsafe.govt.nz/profs/PUArticles/AmiodaroneJune2011.htm).
Healthcare professionals are encouraged to report all suspected adverse reactions to any medicine to CARM. Reports may be submitted on paper or electronically (https://nzphvc.otago.ac.nz).
References
Penedones A, Mendes D, Alves C, et al. 2015. Drug-Induced Ocular Adverse reactions: review of the Safety Alerts Issued During the Last Decade. Journal of Ocular Pharmacology and Therapeutics 31:5.
Miguel A, Henriques, Azevedo LF, et al. 2014. Ophthalmic adverse drug reactions to systemic drugs: a systematic review. Pharmacoepidemiology and Drug Safety. 23:221-233.