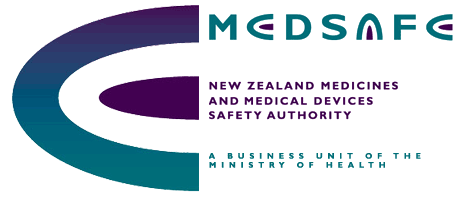 Home | Consumers | Health Professionals | Regulatory | Other | Hot Topics | Search
Data Sheet
The sponsor (pharmaceutical company) of this product has advised Medsafe that this product has either been discontinued or is no longer marketed in New Zealand.
Therefore this Data Sheet may not be up to date.
Medsafe has elected to leave it on this web site because supplies of this product may still be available, and health professionals should continue to have access to this product information in the interim.
You may be able to find a more current Data Sheet containing the same medicine by returning to the main Data Sheet page and searching by ingredient name.
Fraxiparine® INJECTION
Nadroparin Calcium 9,500 IU anti-Xa (AXa) per 1.0 mL solution for injection.
Presentation
Fraxiparine is a sterile, clear preservative-free solution usually for subcutaneous injection containing Nadroparin Calcium 9,500 IU AXa per 1.0 mL dissolved in water for injections.
Fraxiparine is a low molecular weight heparin made by depolymerisation of standard heparin. It is a glycosaminoglycan with a mean molecular weight around 4,500 daltons. It possesses a high ratio of anti-Xa activity to anti-IIa activity. Fraxiparine has both immediate and prolonged antithrombotic action.
Uses
Actions
Low molecular weight heparin.
Pharmacokinetics
Pharmacokinetics have been determined by measurement of plasma anti-Xa activity. The plasma peak occurs about 3 hours after subcutaneous injection. The elimination half-life is about 3.5 hours. Anti-Xa activity persists for at least 18 hours after injection.
Bioavailability is almost complete (around 98%).
Anti-Xa (AXa) denotes anti factor Xa activity. The ratio of anti-Xa to anti-IIa activity is 2.5 to 4.0.
Indications
Prophylaxis against thromboembolic disorders, especially those associated with general or orthopaedic surgery. Treatment of thromboembolic disorders. Prevention of clotting during haemodialysis.
Dosage and Administration
Administration
Usually by subcutaneous injection into the lateral abdominal wall. When Fraxiparine is given by subcutaneous injection, the usual site for injection is the lateral abdominal wall, although the thigh may be used as an alternative. The needle should be inserted perpendicularly into a pinched-up fold of skin which should be held gently but firmly until the injection has been completed. Do not rub the injection site. Fraxiparine is not intended for IM administration.
Removal of packaging prior to injection
To divide the syringes, carefully fold, several times, the twin pack so that the syringes are back to back, then slowly using an even pressure divide the two syringes starting from the plunger end of the pack.
To remove the syringe from its plastic packaging, gently tear the top backing paper completely from the plastic tray (starting from the plunger end), then allow the syringe to roll onto the palm of your other hand.
The rubber cap over the needle may appear to be asymmetrical on the syringe, however, this occurs during packaging and does not mean that the needle is bent.
Preparation of syringe for subcutaneous injection
To remove the cap from the syringe needle:
Hold the syringe vertically (grey cap uppermost)
Hold the grey cap by its collar, and the syringe barrel in your other hand, then slowly rotate the syringe barrel gently pulling downwards at the same time, until the needle is fully withdrawn from the cap.
Do not pull the cap upwards from the syringe - this may bend the needle.
Fraxiparine 0.2 mL, 0.3 mL and 0.4 mL prefilled syringes are intended for administration of unit dosages only. The entire contents of the syringe should be injected. There may be a small air bubble in the syringe but this does not have to be removed.
Fraxiparine 0.6 mL, 0.8 mL and 1.0 mL prefilled graduated syringes may be used to administer adjusted dosages. Hold the syringe vertically with the needle uppermost and ensure the air bubble is at the top of the syringe. Advance the plunger to the volume/dosage required, expelling air and any excess.
Method for subcutaneous administration
A suitable site for injection is the subcutaneous tissue of the lateral abdominal wall, away from any wound or weight bearing site. Alternatively injection may be made into the thigh.
Pinch a skin fold. Note: the use of alcohol may toughen the skin, making subsequent injection difficult.
Maintain the fold and insert the needle vertically to its full depth then inject Fraxiparine over 10 to 15 seconds. There may be a small air bubble in the barrel of the syringe but this does not have to be removed.
Still holding the skin fold, withdraw the needle vertically. Do not rub the site of injection. Fraxiparine is not intended for IM or IV administration.
Dosage
Prophylaxis of thromboembolic disorders:
General prophylaxis
Fraxiparine should be given as a single daily dose of 0.3 mL (2,850 IU AXa) for at least 7 days and in all cases throughout the risk period until the patient is ambulant. For surgical patients the first dose should be given 2 to 4 hours pre-operatively.
Orthopaedic surgery
Initial doses should be given 12 hours before surgery and 12 hours after the end of surgery. These and subsequent once daily doses should be adjusted to body weight based on Table 1. Treatment should be for at least 10 days and should continue in all cases throughout the risk period until the patient is ambulant.
TABLE 1
Orthopaedic Surgery
Volume To Be Injected Subcutaneously Once Daily
Body Weight (kg)
Pre-Operatively and until Day 3
From Day 4 Onwards
<50
0.2 mL
0.3 mL
50-69
0.3 mL
0.4 mL
≥70
0.4 mL
0.6 mL
Treatment of thromboembolic disorders
Fraxiparine should be given subcutaneously twice daily for 10 days with the dose adjusted to body weight as shown in Table 2.
TABLE 2
Treatment Of Thromboembolic Disorders
Body Weight (kg)
Volume to be Injected Subcutaneously Twice Daily
<50
0.4 mL
50-59
0.5 mL
60-69
0.6 mL
70-79
0.7 mL
80-89
0.8 mL
≥90
0.9 mL

Platelet count must be monitored throughout Fraxiparine treatment (see Warnings and Precautions)
Prevention of Clotting During Haemodialysis
Optimisation of dosage is required for each individual patient. Fraxiparine is usually given as a single dose into the arterial line at the start of each session. For patients without increased risk of haemorrhage the following initial doses are suggested in Table 3:
TABLE 3
Prevention of Clotting During Haemodialysis
Body Weight (kg)
Volume to be Injected into Arterial Line at Start of Dialysis
<50
0.3 mL
50-69
0.4 mL
≥70
0.6 mL

An additional smaller dose may be given during dialysis for sessions lasting longer than 4 hours. The dose in subsequent dialysis sessions should be adjusted as necessary according to observed effect.
Contraindications
Fraxiparine is contraindicated in patients hypersensitive to nadroparin, or who have a history of thrombocytopenia with nadroparin (see Warnings and Precautions). Fraxiparine is also contraindicated in patients with an increased risk of haemorrhage including those with bleeding disorders (except for disseminated intravascular coagulation not induced by heparin), organic lesions likely to bleed (such as active peptic ulceration), haemorrhagic cerebrovascular accident or infective endocarditis.
Warnings and Precautions
Because of the possibility of heparin induced thrombocytopenia, regular monitoring of platelet count is recommended throughout the course of treatment with Fraxiparine.
Rare cases of thrombocytopenia, occasionally severe, have been reported. Treatment should be discontinued immediately. The thrombocytopenia may be associated with arterial or venous thrombosis, exacerbation of the pre-existing thrombosis or disseminated intravascular coagulation, the platelet count should be assessed if these events are suspected. These events are probably immunological in origin and in the case of a first course of heparin treatment usually occur between the 5th and 21st day of therapy but may occur much earlier if there is a history of heparin-related thrombocytopenia.
Where there is a history of thrombocytopenia occurring with another heparin, careful clinical monitoring including assessment of platelet count at least once daily should be undertaken and treatment should be discontinued immediately if thrombocytopenia occurs (since early recurrences have been reported).
Substitution with Fraxiparine may be considered where thrombocytopenia has occurred with another heparin preparation but careful monitoring should be undertaken at least once a day. There have been reports of the initial thrombocytopenia continuing after substitution with Fraxiparine; in such cases treatment should be discontinued as soon as possible. In vitro aggregation tests are of limited value and expert advice should be obtained.
Reduced doses should be considered in patients with moderate to severe renal insufficiency. Administer with caution in cases of hepatic insufficiency, severe arterial hypertension, history of peptic ulceration or other organic lesion likely to bleed, vascular disorder of the chorio-retina and in the post-operative period following surgery of the brain, spinal cord or eye.
The concomitant use of aspirin, other salicylates, non steroidal anti-inflammatory drugs, ticlopidine or anti-platelet agents represents a relative contraindication for Fraxiparine administration.
The characteristics of Fraxiparine are different from those of other proprietary Low Molecular Weight Heparins therefore switching to an alternative product is not recommended during a course of treatment.
Hyperkalaemia
Heparin can suppress adrenal secretion of aldosterone leading to hyperkalaemia, particularly in patients with a raised plasma potassium or at risk of increased plasma potassium levels (such as patients with diabetes mellitus, chronic renal failure, pre-existing metabolic acidosis or taking drugs that may increase plasma potassium levels ie. ACE Inhibitors, NSAIDs).
The risk of hyperkalaemia appears to increase with duration of therapy but is usually reversible. Plasma potassium should be monitored in patients at risk.
Spinal/epidural haematomas
The risk of spinal/epidural haematomas is increased by indwelling epidural catheters or by concomitant use of other drugs which may affect haemostasis such as NSAIDs, platelet inhibitors or other anticoagulants. The risk also appears to be increased by traumatic or repeated epidural or spinal puncture.
Therefore, the concomitant prescription of central nervous blockade or spinal puncture and anti-coagulant therapy should be decided only after careful individual benefit/risk assessment in the following situations:
in patients already treated with anticoagulant therapy, the benefits of central nervous blockade or spinal puncture must be carefully balanced against the risks.
in patients planned to undergo elective surgery with central nervous blockade or spinal puncture, the benefits of anticoagulant therapy must be carefully balanced against the risks.
In the case of patients with lumbar puncture, spinal anaesthesia and epidural anaesthesia, a sufficient interval of time should be observed between the injection of Fraxiparine and the insertion or the removal of the spinal/epidural catheter or needle.
Where concomitant prescription of central nervous blockade or spinal puncture and LMWH is used, patients should be frequently monitored for signs and symptoms of neurological impairment, with urgent treatment to be started if neurological compromise is noted.
Use in Pregnancy
Category C.
Studies in animals have not shown any teratogenic of foetotoxic effects. However, there is only limited information and clinical data concerning transplacental passage. The use of Fraxiparine in pregnancy is not advised unless no safer alternative can be found.
Use in Lactation
Due to limited information on excretion in breast milk and subsequent absorption in the neonate, use of Fraxiparine during breast feeding is not advised.
Adverse Effects
In common with other heparin preparations:
Haemorrhage manifestations at various sites, more frequent in patients with other risk factors (see Contraindications).
Some rare cases of thrombocytopenia, sometimes thrombogenic, have been reported (see Warnings and Precautions).
Some rare cases of cutaneous necrosis, usually occurring at the injection site, have been reported. They are preceded by purpura or infiltration or painful erythematous blotches, with or without systemic illness. Treatment should be discontinued immediately.
Occasional cases of small haematoma at the injection site, pain and bruising are minimised by careful injection technique. In some cases, the emergence of firm nodules may be noted. These nodules usually disappear after a few days.
Rare cutaneous or generalised hypersensitivity reactions, including angioedema, sometimes requiring discontinuation of treatment.
Raised transaminases, usually transient.
Occasional cases of reversible hypoaldosteronism have been reported, either asymptomatic or associated with hyperkalemia and/or hyponatremia (see Warnings and Precautions).
Eosinophilia, which is reversible after treatment discontinuation.
Rare cases of priapism.
Interactions
Fraxiparine should be administered with caution in patients receiving other drugs which increase the risk of bleeding such as oral anticoagulants, aspirin, non steroidal anti-inflammatory drugs, other anti-platelet agents, corticosteroids and dextrans. Where concomitant use is necessary (such as during transfer from Fraxiparine to oral anticoagulant therapy), careful clinical and biological monitoring should be undertaken.
Overdosage
Haemorrhage is the major clinical sign of overdosage. The platelet count and other coagulation parameters should be measured. Minor bleeding rarely requires specific therapy, and reducing or delaying subsequent doses of Fraxiparine is usually sufficient.
The use of protamine sulphate should be considered only in more serious cases. It largely neutralises the anticoagulant effect of Fraxiparine, but some anti-Xa activity will remain.
6 mg of protamine sulphate neutralises about 0.1mL (950 IU AXa) Fraxiparine.
Pharmaceutical Precautions
Shelf life - 3 years. Store below 25°C but do not freeze. Do not refrigerate as cold injections may be painful. Discard any unused portion of each syringe. Do not mix with other preparations. Do not use after the expiry date shown on the carton.
Medicine Classification
Prescription Medicine.
Package Quantities
Disposable prefilled glass single use syringes containing nadroparin calcium 9,500 IU AXa per 1.0 mL in water for injections with sufficient Calcium Hydroxide or dilute Hydrochloric acid to adjust the pH to between 5 and 7.5.
Volume
Type of Syringe
Nadroparin Calcium
(IU anti-Xa)
Pack size
0.2 mL
Ungraduated
1,900
2 and 10
0.3 mL
Ungraduated
2,850
2 and 10
0.4 mL
Ungraduated
3,800
2 and 10
0.6 mL
Graduated
5,700
2 and 10
0.8 mL
Graduated
7,600
10
1.0 mL
Graduated
9,500
10
Name and Address
GlaxoSmithKline NZ Ltd
Quay Tower
Cnr Albert & Customs Streets
Private Bag 106600
Downtown
Auckland
NEW ZEALAND
Telephone (09) 367 2900
Facsimile (09) 367 2506
Date of Preparation
Date: 28 October 2004
Issue: 1
FRAXIPARINE® is a trade mark of the GlaxoSmithKline group of companies.
© This data sheet is copyrighted to GlaxoSmithKline and may be reproduced but not altered in any way.