Safety Information
Trans-Tasman Early Warning System - Alert Communication
Diclofenac (Voltaren) and risk of cardiovascular events (heart attack and stroke)
8 July 2013
Products affected
Information for consumers and caregivers
Information for healthcare professionals
Data summary
What action is Medsafe taking?
How to report
Further information
Diclofenac is a non-steroidal anti-inflammatory drug (NSAID) used for the relief of moderate pain and inflammation. Diclofenac provides symptomatic relief but has not been shown to halt or reverse the underlying disease process.
Recent publications have suggested an increased risk of cardiovascular events such as heart attack and stroke with the use of diclofenac. Medsafe and the Medicines Adverse Reactions Committee (MARC) have concluded there is a very small increased risk of these effects with diclofenac, when used at high doses and for long-term therapy.
However, study limitations make it impossible for Medsafe to determine whether there is a higher risk of cardiovascular events with diclofenac treatment compared to treatment with other NSAIDs.
Diclofenac is available under different brand names (refer to product list at the end of this alert). This alert applies to diclofenac tablets, suppositories and injections. It does not apply to diclofenac-containing products applied to the skin or used in the eye.
Products affected
A list of products containing diclofenac available in New Zealand can be found below (Further infomation).
Information for consumers and caregivers
Non-steroidal anti-inflammatory drugs, including diclofenac, are effective at relieving pain and inflammation for many conditions.
For most people, taking diclofenac is safe. However, if you have high blood pressure, high cholesterol, diabetes, your kidneys do not work very well or you smoke, you should check with your healthcare professional that this medicine is appropriate.
Use the lowest dose that works for you and stop as soon as you can.
Medsafe cannot give advice about an individual's medical condition. If you have any concerns about a medicine you are taking Medsafe encourages you to talk to your healthcare professional.
Information for healthcare professionals
The overall benefit to risk of harm balance of diclofenac remains positive.
It is not possible to clearly differentiate cardiovascular risk between different non-steroidal anti-inflammatory drugs (NSAIDs).
Use the lowest effective dose for the shortest possible duration.
Patients who have had a recent myocardial infarction (within the last 6 to 12 months) should not use diclofenac.
The effectiveness of diclofenac (and other NSAIDs) may vary between individual patients.
Patients receiving long-term diclofenac should be periodically reviewed for effectiveness, adverse effects and development of cardiovascular risk factors. Consideration should be given to monitoring blood pressure, haemoglobin levels and renal function.
Relevant risk factors for cardiovascular events associated with diclofenac (and other NSAIDs) include hypertension, hyperlipidaemia, diabetes, ischaemic heart disease and smoking.
Discuss the risks and benefits of NSAID treatment with patients before commencing therapy.
Don't forget the other important harms associated with NSAID treatment, such as gastrointestinal bleeding, impaired renal function and severe skin reactions.
Report any adverse reactions to the Centre of Adverse Reactions Monitoring (CARM).
Data summary
The Medicines Adverse Reactions Committee (MARC) reviewed the latest data in June 2013. The MARC concluded that there was a small increase in the risk of cardiovascular events with the use of diclofenac.
Many studies had a low number of overall events. This limits risk estimation, with subsequent risk values only marginally statistically significant. However, diclofenac is widely used and it is important to highlight the small increase in risk.
The risk values varied between the different studies. Examples of data reviewed are shown below:
Table 1: Odds ratios estimated by case-crossover analysis for specific causes of death associated with exposure to NSAIDs stratified according to daily dosage1.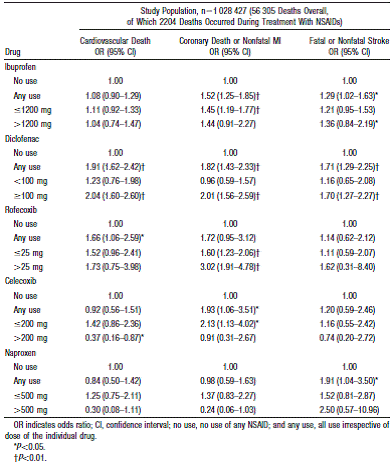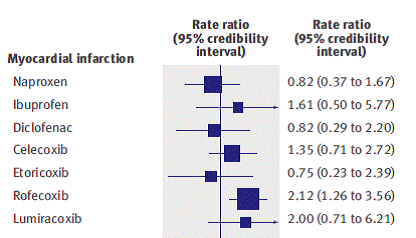 Figure 1: Estimate of rate ratio (with 95% confidence interval) for non-steroidal anti-inflammatory drugs compared with placebo or non-use, for primary outcome of myocardial infarction2.
Table 2: Estimated relative risk of cardiovascular events according to risk of underlying cardiovascular disease, compared with non-use3*

*In general, high risk = experienced prior vascular ischaemic events, low risk = no such history
The limitations of the studies included in the review included a lack of information on the efficacy of the different medicines in individual patients, the inability to adjust for some important confounders (eg, smoking status, alcohol use, body mass index or obesity, over-the-counter non-steroidal anti-inflammatory drug [NSAID] use and use of other medications), the observational nature of most studies, and a lack of information in many instances of dosage, regimen and indication for use.
The MARC noted that other NSAID adverse reactions are also important, including the risk of gastrointestinal events, renal injury and severe skin reactions. The MARC also noted that other types of pain relievers also have undesirable effects.
A previous MARC review (2006/2007) of the risk of cardiovascular events with the use of NSAIDs determined that all NSAIDs are associated with an increased risk of serious cardiovascular events. The MARC recommended that no distinction should be made between individual NSAIDs or dosages, or between prescription-only and over-the-counter NSAIDs, in terms of the risk management advice given. Medsafe was unable to determine from the new data a clear difference in risk between different NSAIDs. Other risks and benefits associated with NSAIDs and other types of pain relievers also need to be taken into account.
References
Fosbol, E.L. et al. (2010) Cause-Specific Cardiovascular Risk Associated with Nonsteroidal Anti-Inflammatory Drugs among Healthy Individuals. Circulation: Cardiovascular Quality and Outcomes, 3 (4): 395-405
Trelle, S et al. (2011). Cardiovascular safety of non-steroidal anti-inflammatory drugs: network meta-analysis. BMJ, 342: c7086
McGettigan P and Henry, D (2011). Cardiovascular Risk with Non-Steroidal Anti-Inflammatory Drugs: Systematic Review of Population- Based Controlled Observational Studies. PLoS Medicine, Vol. 8 Issue 9 e1001098
What action is Medsafe taking?
Medsafe is working with the sponsors of these products to ensure data sheets, Consumer Medicine Information and package inserts appropriately outline the safety of diclofenac.
How to report
Phone
+64 3 479 7247 to speak to a Medical Advisor at CARM.
Online
Submit an online report
Prescribers can submit using the online reporting tool available in patient management software.
Yellow Card
A completed Yellow card can be submitted to CARM via email, fax or mail (address is on the card).
Email
carmnz@otago.ac.nz
Fax
+64 3 479 7150
Further information
European Medicines Agency decision
| Product name | Sponsor |
| --- | --- |
| Apo-Diclo Enteric coated tablet | Apotex NZ Ltd |
| Diclax SR Modified release tablet | Douglas Pharmaceuticals Ltd |
| Diclofenac 25 Film Coated tablet | Dr Reddy's New Zealand Ltd |
| Diclofenac Sandoz Enteric coated tablet | Novartis New Zealand Ltd |
| Voltaren D Dispersible tablet | Novartis New Zealand Ltd |
| Voltaren Enteric coated tablet | Novartis New Zealand Ltd |
| Voltaren Osteo Enteric coated tablet | Novartis Consumer Health Australasia Pty Ltd |
| Voltaren Rapid 25 tablet | Novartis Consumer Health Australasia Pty Ltd |
| Voltaren Solution for injection | Novartis New Zealand Ltd |
| Voltaren SR Modified release tablet | Novartis New Zealand Ltd |
| Voltaren Suppository | Novartis New Zealand Ltd |